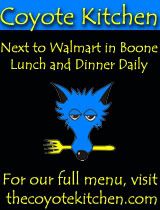 Congratulations to myjennymarie, the winner of the $20 Coyote Kitchen gift certificate! It really is one of my favorite restaurants in Boone!
We have 73 confirmed email subscriptions, and I want to thank all of you who have helped the High Country Mom Squad off to a great start! The first good news is that Coyote Kitchen has given 15 summer t-shirts for runner-up prizes! Those winners are:
Dromroll Please…………..
#55 Lois T
#53 bparsons
#71 Debby C
#32 Kristin
#14 bmt121979
#52 glorioski
#57 Suzanne P
#1 Lessa E
#37 Gretchen
#35 Shelly
#56 Paula D
#26 Melanie C
#24 Tiffany C
#70 Anna L
#4 Niki M
The winners were chosen by placing the subscribers in order by start date, then choosing random numbers with the Random.org integer generator. I will send the winners an email with a free t-shirt coupon, which you can take to Coyote Kitchen. Sizes are limited, and will be given on a first-come first-served basis.
Coyote Kitchen is located next to Walmart in Boone. Visit their website at www.thecoyotekitchen.com
Disclosure: Coyote Kitchen is a HC Mom Squad sponsor.