Enter all these giveaways!
This week is the official kick-off of the High Country Mom Squad! I want to thank all of you readers who have helped get the HC Mom Squad off to an incredible start!
Every day this week, we'll have a giveaway contest from a local business. Day 1 is a musical extravaganza!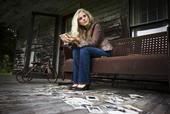 Two winners will each receive a CD from local musician and recording artist, Laura Kaufman. If you've never heard Laura, her music is an eclectic mix of contemporary style, blended with her folk roots. She sings of love and life and explores a range of human emotion in her music. My children have listened to her Lullabies for years as they go to sleep, and Photographs is a standard on my iPod playlist.
Laura would also like to invite everyone to come out to Higher Grounds Coffeehouse at New Market Center in Boone on March 7th at 7:00PM. She'll be performing with another local musician, Kevin Troyer. Higher Grounds is a family friendly atmosphere, so feel free to bring the kids. However, this would be a great idea for a date night!
You can also visit Laura at www.laurakaufman.net
Here's how you can enter:
1. Visit the iTunes page for Lullabies (click here) or Photographs (click here), and choose your favorite song.
2. Tell us your favorite Laura Kaufman song in a comment on this post, including an email address where I can contact you. Leave it in a non-spam format. Example: singforhim94 [at] yah** [com]. Pretty soon, we will be moving to a format where you can leave me your email confidentially.
3. If you are a new or existing subscriber, leave a second comment, saying "subscriber"! You get an extra chance. To subscribe, enter your email address in the top right hand of the page. (privacy policy)
4. If you email this contest to a non-subscriber, leave another comment, saying "email." You get yet another chance to win!
All the contests will run through the week, and will be closed on Sunday, Feb 24. The winners will be announced on Monday, Feb 25.
Add your comment by visiting the High Country Mom Squad, (Click Here) then click "Post a Comment" at the very bottom of this post. When the comment page comes up, type your comment, then click "Sign In," "Name/URL" or "Anonymous," and publish your comment.