It's already October folks! Boy is time moving fast, and only about 12 weeks until Christmas. Crazy, I know!
If you look up and all around, you will find lots of different
trees with changing leaves. From what I understand, the dry summer that we have had will bring on stark and vibrant hues to the trees. We definitely have Autumn Colors in the High Country…from yellowish green, bright orange, to awesome reds! It is beautiful and will get better in the next couple of weeks. Expect lots of traffic here in the mountains with many visitors.
Along with the seasonal changes, brings fabulous events and happenings here. Aren't we blessed to live in such a gorgeous setting called the Appalachian Mountains! Tell us what are your favorite things to do during the Autumn season! We would love to hear from you.
________________________________________________________________
Now Showing:
Visit www.regmovies.com for more info or call 828-262-3330.
_________________________________________________________
On Friday…
Boo…It's that time again for Tweetsie's Ghost Train Halloween Festival starting this Friday, Sept. 30th and running every Friday & Saturday until Oct. 29th. Have tons of fun riding the scary train and rides from 7:30 pm – 11:30 pm with admission $34 for adults, $22 for kids 3 – 12, and children 2 and under are free. For more info call 877-893-3874 or visit www.Tweetsie.com.
Join the Town of Blowing Rock for their final Sunset Stroll this Friday,
Sept. 30th from 5:30 – 8 pm. Many of the town's Stores and Businesses, Art Galleries, and Restaurants will have Open Houses and snacks and activities. For more info call 828-295-6991.
Come on out to have some fun at Hardin Park School's Fall Festival, celebrating Peace, Love, and Happiness this Friday, Sept. 30th from 5 pm – 8 pm. It's gonna be a Hippie Hoe Dow, so bring your Tye Dyes, Beads, Flower Power and Smiling Faces as we all come together to celebrate and have Carolina BBQ, a Karaoke Stage, music by Folk and Dagger, Inflatables, Laser Tag, Dunk-A-Teacher, Carnival Games and much more! Also help out by bringing some canned food for the Food Drive to benefit the Hunger and Health Coalition. For more info contact Denise Lovin and Brandy Sappington at hardinparkschool@gmail.com or call 964-2618.
On Saturday…
Help celebrate the new campus of First Presbyterian Church with their Family
Fun Day this Saturday, Oct. 1st from 10 am – 2 pm. Lots of fun will be had with Bounce Houses, Crafts, Face Painting, a Cupcake Walk, a Puppet Show, Snacks, and even a performance by the Appalachian Rhythm Cloggers. For more info or directions call 828-264-3906.
After 2 years of building, the BRAHM Grand Opening is here, this Saturday, Oct. 1st starting at 10 am. Abbreviated for the Blowing Rock Art and History Museum, the day will consist of a Ribbon Cutting, Guided Tours, Book Signings, a special chat with the Grandsons of artist Elliot Daingerfield, Raffle Drawings every hour, Live Music, Refreshments and much more. Free for BRAHM members/children up to age 4, and then admission is $8 for adults, $5 for students, military and kids 5 and up. For more info call 828-295-9099 or visit www.blowingrockmuseum.org.
Support the community and attend the 6th annual Festival of Artisans,
hosted by Rumple Memorial Presbyterian Church this Saturday Oct. 1st from 9 am – 3 pm. The Craft Fair and community fundraiser features Breakfast & Lunch, Frozen Soups, Chicken Pot Pies, Arts and Crafts,  a Silent Auction, and Raffle for a BBQ Dinner, and much more all to benefit Blowing Rock C.A.R.E.S. For more info call 828-295-7675 or visit www.rumplechurch.org.
Head on over to the 34th annual Brushy Mountain Apple Festival this Saturday, Oct. 1st, from 8 am – 5 pm, in the downtown area of North Wilkesboro. Celebrating Appalachian heritage, and the year's biggest fundraiser for the Ruritan Club, they have more than 100 nonprofit org's participate. With over 350 Artisans, 100 Food Vendors, and musicians on 4  different music stages playing live Bluegrass, Country, Folk, Gospel and Traditional music, there is something for everyone! For more info call 336-921-3499 or visit www.applefestival.net.
Get out and "Green Your Routine" at the 5th annual Town of Boone's Fun in the
Park Day this Saturday, Oct. 1st from 10 am – 2 pm. Part of the town's efforts to water conservation, recycling and a litter-free community, the Public Utilities office and Public Works offices are co-hosting the day at the Boone Jaycees Park on Horn in the West Drive. Activities include 3 giant Bounce Houses/Slides, Face Painting, Balloons, Paint Sheets, Games, Tattoos, Stickers and much more. For more info call 828-268-6230.
Foll
ow the Yellow Brick Road to Beech Mountain for the Autumn at Oz weekend this Saturday and Sunday, Oct. 1st & 2nd from 10 am – 5 pm. Meet your favorite Oz characters with lots of Fun, Food, Music, Hay Rides, Memorabilia and more. Advance tickets are $16.50,  and $20 the day of with kids 2 and under free. For more info call the Beech Mountain Chamber of Commerce at 828-387-9283 or visit www.autumnatoz.com.
On Sunday…
Dive right into the Fall season with the annual AutumnFest at Mountain
Pathways School this Sunday, Oct. 2nd, located on Howard's Creek Rd. from 12 noon – 4 pm. Autumnfest is celebrating the season, so come and tour the Open House and enjoy Fun, Food, Horseback Riding, Inflatables, Hayrides, play by the banks of Howard's Creek, and more. For more info visit their website at www.mountainpathways.org, or contact Glenn Grizzard at mpathways@gmail.com or call 828-262-5787.

Have a Safe and Fun Weekend!
_________________________________________________________
***Make sure to visit our Online Stores at www.timespasttoys.etsy.com , our NEWEST website www.timespastwoodentoys.com, and www.dailycrossdesigns.etsy.com for our Wooden Toys and Home, Business, and Garden Decor.
You can also find us on Facebook and Twitter under http://www.facebook.com/TimesPastToys; and as a follower @TimesPastToys; and at http://www.facebook.com/dailycrossdesigns and as a follower @dlycrossdesigns.
Hope to see you soon!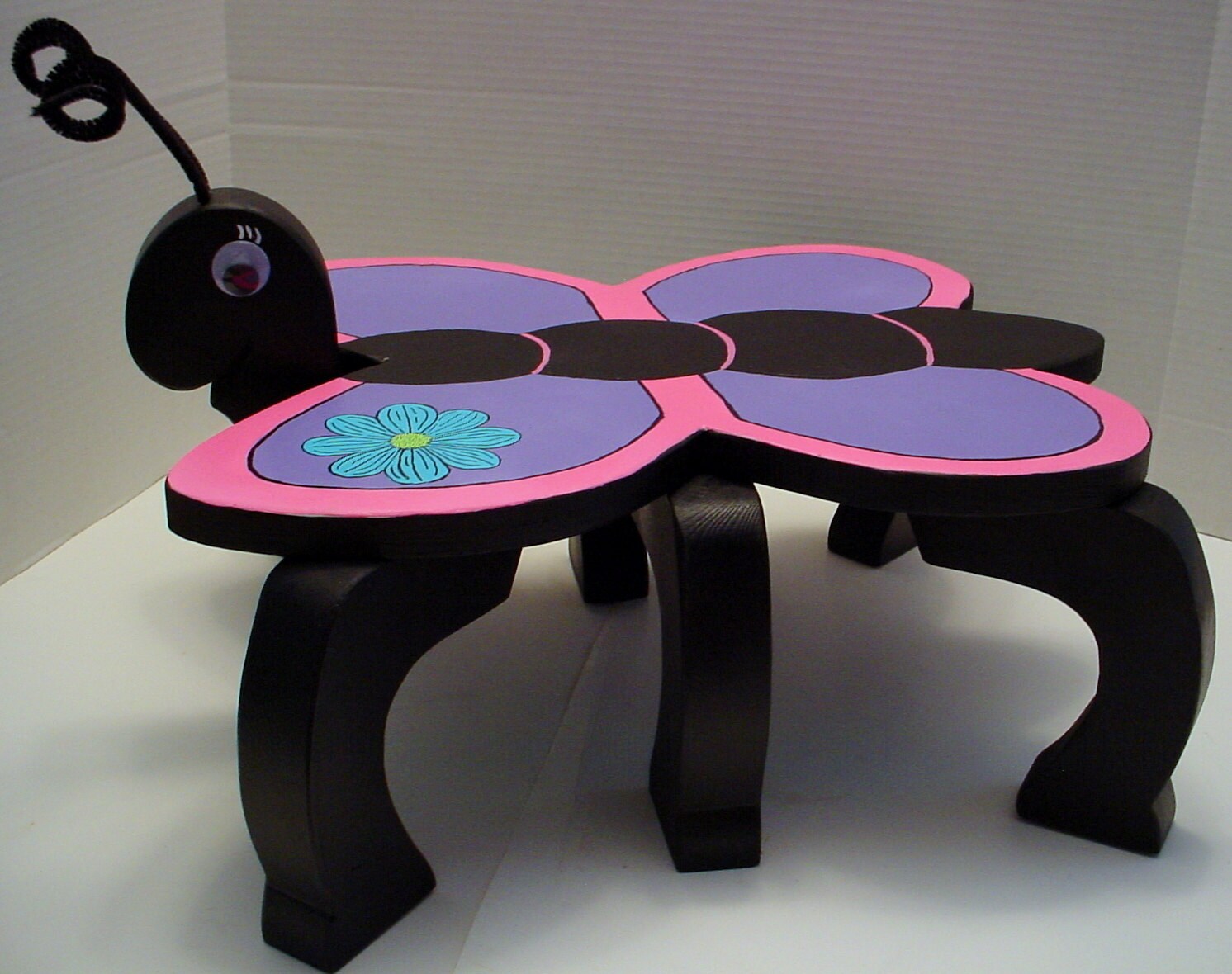 Here is a current item being offered: Butterfly Flower Step Stool –Butterfly Flower Step Stool will just tickle your child's fancy as they feel like they are floating on a cloud standing tall and sturdy! Shown here with a black body and legs, bright pink and fun purple wings, and accented with a blue and green flower, this is just one stool in our product line of Fun, Animal or Flower Themed Children's Step Stools. This Butterfly can be made in your choice of colors and customized with your child's name on it for a nominal fee. Measures – 19" Length X 15" Width X 6" Height. $32.00
We are now offering our Toys and products packaged for your convenience. .