Well we are officially into a new season! Happy 1st Day of Fall or Autumn! It is a beautiful time of year when the weather begins to change and the leaves start to turn colors, crisp cool mornings…Isn't it
awesome!!! I love it, I know, you've heard me say it, but I can't help it. It is such a gorgeous time of year!
C'mon on, you've got to agree with me. It's time to get outside and see what all
the fuss is about. Here are some activities to help you do just that.
Have some fun and kick up some leaves! More is on the way!
_____________________________________________________________________________
Now Showing:
Visit www.regmovies.com for more info or call 828-262-3330.
__________________________________________________________________
On Friday…
Already going on, it's another great Children's Consignment Sale Thursday, September 24th through Saturday, October 1st, held at the former Fleetwood School. Find lots of great deals from Pregnancy to kids of all ages, all with part of the proceeds going to help Ashe County Schools. For more info call 336-877-8894 or visit www.ashekidsmarket.com.
On Saturday…
Ruff, Ruff…bring on out your favorite canine friend to the Watauga Humane Society's Dog Jog, this Saturday, Sept. 24th at 11 am. Held at the Watauga County Parks and Rec Complex in Boone, the registration fee is just $20 for students and everyone else is $22. For more info call 828-265-9553 or visit www.wataugahumanesociety.org/39-dog-jog/.
On Saturday and Sunday…
Kick up some dust at the Blue Ridge Open Charity Horse Show hosted by 4-H, this Saturday and Sunday, Sept. 24th & 25th. Held at the Blowing Rock Equestrian Preserve, this will be a multi-event show featuring English and Western horses, and benefits Horse Helpers of the High Country and Genesis Wildlife. Shows begin on Saturday at 9:30 am, and on Sunday at 8:30 am with Free admission! For more info contact Mackey at 828-264-3061 or visit http://bropencharityhorseshow.weebly.com.
Help the Banner Elk community and Apple Hill Farm celebrate National Alpaca Farm
Days this Saturday and Sunday, Sept. 24th & 25th as they host an Open House from 10 am – 5 pm. Come and visit Apple Hill Farm with beautiful surround mountain views and animals excited to meet you. Free and open to the public, tours will be given every hour on the hour! For more info call 828-963-1662 or visit www.applehillfarmnc.com.
On Sunday…
It's f
inally here! Blowing Rock is jumping for joy with the opening of the Blowing Rock Art and History Museum. And, to commemorate the opening, they are having a Community and Family Day this Sunday, Sept. 25th, from 2 pm – 5 pm. The Free event will include Food, Activities, and of course Live Entertainment! For more info call the museum at 828-295-9099.
Bring the family and come on out to the Turtle Island Preserve in Triplett for their Fall
Open House this Sunday, Sept. 25th from 10 am – 4 pm. Experience a "Hands-On" alternative living experience, where you'll see Blacksmithing, Wood-Working, Open Fire Cooking, Honeybee Keeping, Hide-Tanning Demos, Guided Nature Hikes, Tipi Tours, Sawmilling Demos and free Carriage rides. Lunch will be PotLuck, so bring a dish to share! For more info call 828-265-2267 or visit www.turtleislandpreserve.org.
Have a Fun and Safe Weekend!
____________________________________________________________________
***Make sure to visit our Online Stores at www.timespasttoys.etsy.com , our NEWEST website www.timespastwoodentoys.com, and www.dailycrossdesigns.etsy.com for our Wooden Toys and Home, Business, and Garden Decor.
You can also find us on Facebook and Twitter under http://www.facebook.com/TimesPastToys; and as a follower @TimesPastToys; and at http://www.facebook.com/dailycrossdesigns and as a follower @dlycrossdesigns.
Hope to see you soon!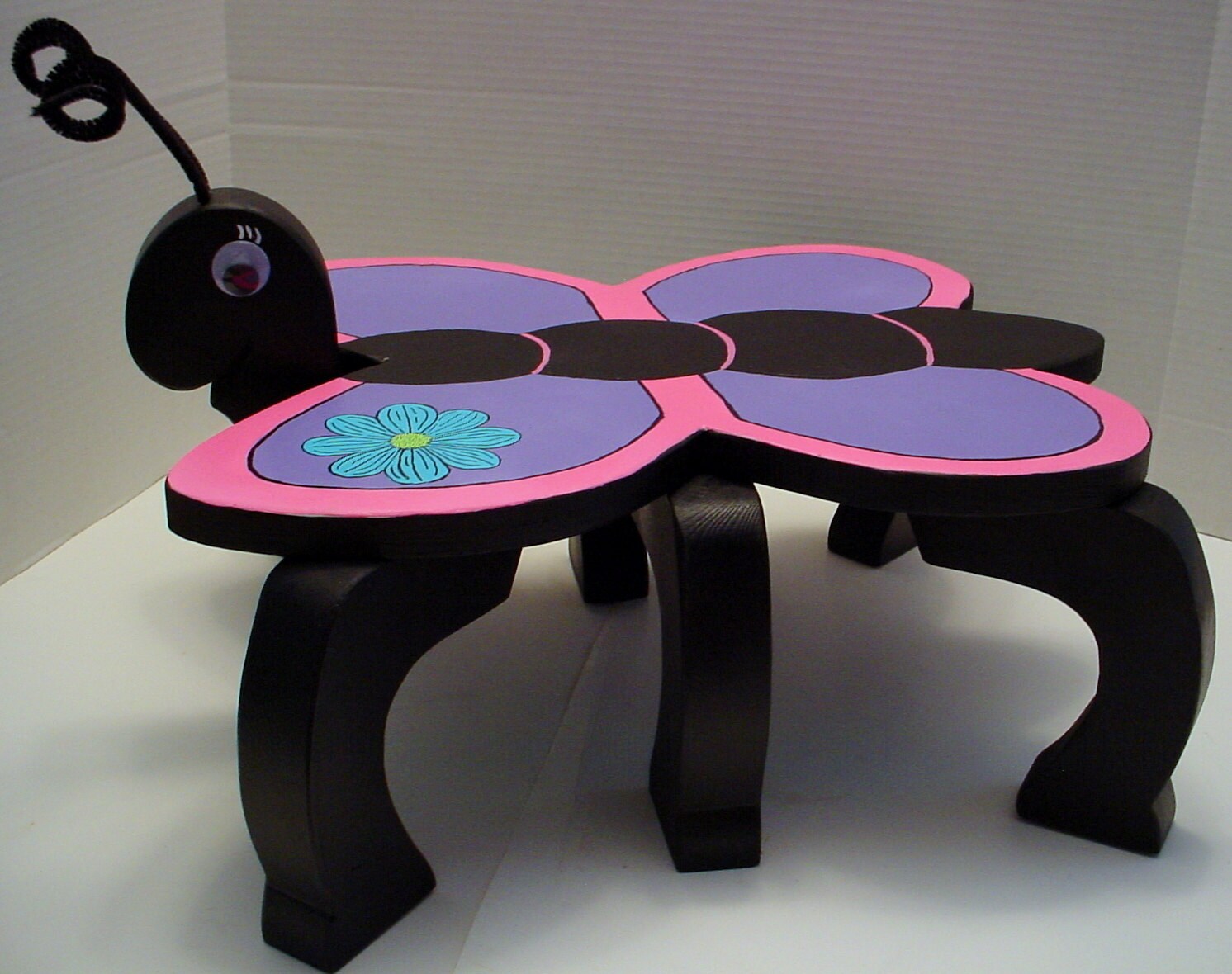 Here is a current item being offered: Butterfly Flower Step Stool –Butterfly Flower Step Stool will just tickle your child's fancy as they feel like they are floating on a cloud standing tall and sturdy! Shown here with a black body and legs, bright pink and fun purple wings, and accented with a blue and green flower, this is just one stool in our product line of Fun, Animal or Flower Themed Children's Step Stools. This Butterfly can be made in your choice of colors and customized with your child's name on it for a nominal fee. Measures – 19" Length X 15" Width X 6" Height. $32.00
We are now offering our Toys and products packaged for your convenience. .